You can move forward anytime by managing your sales process, outreach, and team collaboration on your phone.
Have you finished a tradeshow with a stack of business cards and are thinking of typing them into a spreadsheet? Want to update the status of a deal before you jump on a plane? Add a quick note and update a customer record after a phone call? Share your meeting link with a contact you ran into on the street?
Access your CRM whenever you need it.
Are you walking the dog? Feeding the kids? Jumpstart your productivity by managing deals on the fly.
Never drop the ball—create tasks, reminders, and deals
Find your warmest leads with a detailed activity feed
The mobile member of HubSpot's CRM family enables you and your customer-facing teams to access important information in real time, whether they have your computer nearby or not.
HubSpot's mobile CRM users can accomplish many tasks they typically do on a desktop CRM—enter and update contact records and view historical customer timelines for additional context.
HubSpot's mobile CRM is part of Sales Hub; you can download and use it for free. If you're looking for more advanced features to help automate and scale your sales operations, HubSpot also offers premium features with Starter, Professional, and Enterprise editions of Sales Hub.

Popular HubSpot mobile CRM features include:
Access your customer contact records wherever you are
Create tasks, reminders, and update customer details
View your most important tasks and plan your day before you even open up your computer
Quickly send information and assets in any app with the new HubSpot keyboard
Caller ID screen links your phone's receiving line with your CRM

An Aspiration Marketing HubSpot favorite is "Scan Your Business Card:"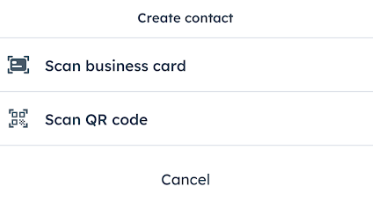 Create contacts in your CRM by scanning a business card or QR code. Could you be done in moments after your business meeting finishes? 😉
👍 Get the HubSpot Mobile CRM App. 👍 Download and use it for free: